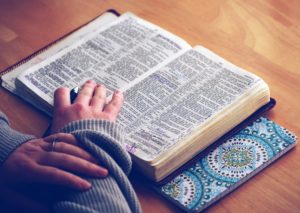 Praying and asking God for a specific word for your life isn't just something you do once a year. As you live and function daily in this world, you need God's powerful and active word for you to be ever present so that you can be a living success.
"For the word of God is living and active and full of power [making it operative, energizing, and effective]." – (Hebrews 4:12(a) AMP
Considering the power of the word that comes from God Himself, we ought to live by it every day. To live by the word of God is to know, understand, trust and obey every word of God. You should rely on it to help you make the right decisions and take right actions so that you will lead a prosperous and successful life (Joshua 1:7-8 AMP)
"What is God's Word to You in this Coming Year?" is one of the topics covered in the Make Your Year a Living Success Goals Workbook (pdf format also available). In this section, I discuss briefly the importance of receiving a word from the Lord for the year. However, regardless of whether it is the New Year or any other time of the year or season in your life, you need the word of the Lord to sustain you through your life journey. Here are a few reasons why having a Word from the Lord is so important.
When you are experiencing a difficult time in your life and you don't feel you have the strength to carry on the word of the Lord will strengthen you in spirit, soul and body. This is what the Apostle Paul spoke of when he was experiencing a challenge that he longed for God to remove from his life. Instead the word of the Lord came to him:
"But He has said to me, "My grace is sufficient for you [My lovingkindness and My mercy are more than enough—always available—regardless of the situation]; for [My] power is being perfected [and is completed and shows itself most effectively] in [your] weakness." Therefore, I will all the more gladly boast in my weaknesses, so that the power of Christ [may completely enfold me and] may dwell in me."
I too can attest to such. There was a season in my life when the challenge I was facing seemed greater than the emotional, physical and mental and even spiritual capacity in me to either work through it or overcome it. I recall clearly at that time going to a weekend retreat and during a time of prayer this scripture 2 Corinthians 12:9 AMP came to me with a strong inner confidence that I will be okay. Not soon after that prayer session, I was handed a note from one of the Pastors with the scripture verse on it and a word of encouragement that I would make it through. Even today, that verse means much to me and is a constant reminder of God's available grace to help me through even my weakest moments.
The word of the Lord comes to confirm your vision whether at a personal level, for ministry, your business or other area of life. Sometimes you may wonder if what you're doing or want to do is from the Lord or is what God really wants you to do. The word of the Lord can come during times like these affirm what is in your heart.
My desire is to make a strong and positive impact on the body of Christ with my message of financial empowerment and living success through writing, teaching, speaking and coaching. At times I have wondered if I should keep going but yet I can't seem to stop even when there are setbacks either of my own doing or someone else's. Throughout the years, I have been sustained by this word, Isaiah 55:5 – "Surely you shall call a nation you do not know, and nations who do not know you shall run to you, Because of the Lord your God, and the Holy One of Israel; for He has glorified you." Recently through a minister, the Lord confirmed the vision I have. I am confident that I will reach those whom God has assigned to my life to be a blessing to them.
The word of the Lord comes to release His promise to you or to encourage you and assure you of His deep love for you.
One constant prayer and desire of my heart has always been that in all I do God will receive the glory and praise. This wasn't anything that I spoke verbally to anyone but at one season in my life I prayed for this more than ever. During this time, I received a word of encouragement from a minister. He shared with me just what was on my heart and gave the word of the Lord. These are two of the verses he shared with me which I constantly remind myself of:
Psalm 37:4 – "Delight yourself also in the Lord, and He shall give you the desires of your heart.
Psalm 21:2 – "You have given him his heart's desire, and have not withheld the request of his lips.
The word of the Lord will give you direction: Have you ever been at a cross-roads in your life when you needed some sound, solid, good direction? I think we have all been in such a place when you either had choices but was uncertain about which direction to take or you just didn't know what to do. This reminds me of Jehoshaphat when the three armies came to fight against him and Israel. He said something we may have said at some point in our lives, "We do not know what to do, but our eyes are on You." (Read 2 Chronicles 20)
Yes, there are times when you and I need to take our cue from people like Jehoshaphat or David – pray, fast and wait for God to respond with the answer. A word from the Lord will not only instruct you on what to do but when you obey that word, you will be victorious.
The word of the Lord can come as a word of discipline or rebuke. Yes, the word of the Lord doesn't always sound good. You know what I mean – sometimes we need to be corrected or rebuked or put in our place. This is what happened to David when he arranged to have Uriah killed and take his wife as his own. The word of the Lord that came through the prophet Nathan was with stern rebuke and judgement (2 Samuel 12).
This is not the kind of word that any of us desire to have but sometimes it is necessary. In love, the Lord will discipline those who are His when He sees the need to (Hebrews 12:5-11). That is one blessing of being a child of God. God your Father will out of love discipline you through His word to keep you from harm, to protect you from your own mess and from the trap of the enemy. What a good, good Father God is!
When you think you lack faith or need more if it, the word of the Lord is able to help build your faith. Romans 10:17 states: "So then faith comes by hearing, and hearing by the word of God." It is necessary to take time on a daily basis to read the word of God. But there is a time when you need to be in it more that usually, when you are in a wilderness season, when you feel like -you're far from God or that He's far from you. You need your faith in God to come alive when a difficult or extremely challenging situation seems "impossible" to resolve or overcome. When you are in a season like this you may not have a specific word from God but spending time reading, listening, watching, studying the Bible with specific focus on a subject will help your faith to grow or be re-ignited to trust God regardless of what is going on in your life.
The word of the Lord gives you the ability to succeed. Do you recall Joshua? A young man who was handed the great responsibility to lead Israel not into the Promise Land but rather to take possession of it as the Lord has promised. The Lord's word to Joshua came as a command that he should be strong, courageous and not afraid to do what he was expected of him. However the Lord also told Joshua: "This Book of the Law shall not depart from your mouth, but you shall meditate in it day and night, that you may observe to do according to all that is written in it. For then you will make your way prosperous, and then you will have good success." (Joshua 1:8). In order words, live by the word of the Lord and you will be successful in life. Through the book named after this man Joshua, we see that he succeeded in fulfilling the mandate God gave him to lead Israel to possess the Promise.
Joshua 1: 8-9 is the word of the Lord that we all should live by. These verses show us how important the word of the Lord is to our success in life. The word of the Lord when rightly applied or acted upon makes us to act wisely in all areas of our lives so we reap the life successes we so desire to experience.
The word of the Lord will keep you focused on your goal, your aim but most specifically on your God. When you receive a word from the Lord that you know is especially for you, that is speaking loud and clear to your heart don't let it go. Rather, do what I advise in the goal setting workbook, put it up like a signpost wherever you can see it regularly. Why? The constant reminder will cause you to pray when you need to (which is constantly) and it will also propel you to act when and where you need to. However, if the word of the Lord is not present always you will find that you lapse, you give in to life challenges or give up on your life goals instead of moving forward.
My focus word for this season is FLOURISH. It's a time for me to bloom, to spread, to fly, to grow in specific areas of my life and in the Lord. The scripture the Lord gave me to focus on is: Psalm 92:12 – AMP – "The [uncompromisingly] righteous shall flourish like the palm tree [be long-lived, stately, upright, useful, and fruitful]; they shall grow like a cedar in Lebanon [majestic, stable, durable, and incorruptible]. I am eager to see what the Lord will do in my life throughout this season."
What about you? Do you have a word from the Lord to you that you are holding onto? Is this word written on your heart, on your fridge, on your doorpost, on your computer or on cell phone as a constant reminder? Share with us, what is the word of the Lord to you for this season. Your word could very well be a help to someone else. Share the word.