David was greatly distressed, for the men spoke of stoning him because the souls of them all were bitterly grieved, each man for his sons and daughters. But David encouraged and strengthened himself in the Lord his God. —1 Samuel 30:6 (AMP)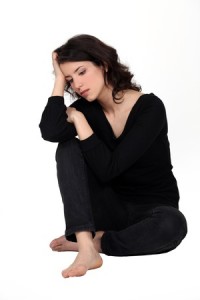 Life can be really challenging – from keeping up with your daily responsibilities to facing unexpected and unpleasant situations – discouragement can set in. Even in the process of pursuing your purpose and living for Christ, you may sometimes experience "the blues". There are moments like these when no one is around to help you or encourage you. But sometimes in the best of circumstances, you can find yourself feeling alone and discouraged also. Regardless of how many friends and family members you have supporting you, there are moments when you feel the heavy weight of discouragement. It is in times like this that you have to encourage yourself in the Lord.
Talk to yourself
Stand in the mirror, look at yourself and give yourself a positive pep talk:
"I can make it with Christ being my help." (Phil. 4:13 AMP).
"This situation is only temporary; I will overcome in the name of the Lord."
"Smile, God is on my side and I will win this battle because he will fight it for me." (2 Chron. 20:15-17)
You can easily depended on someone else to give you that pick-me-up talk but it is not always possible. You must learn to talk yourself out of discouragement and believe that the future ahead of you is good.
Sing & Dance
Sometimes when I am feeling low, I turn the music up loud and have a praise party. It is so refreshing. Many times I have felt the presence of the Lord while doing this. Occasionally, I would get my husband or daughter to dance with me. They usually think I am a bit too loud but I just rather feel great and sing praises to God (Ps. 47:6-7) than be low in body, soul and spirit. When I've done doing my song and dance, I feel energized to keep going and I do!
Read a book
Read a Christian inspirational book or better yet read The Book. Yes, read the Bible. I love to read, there is no topic that has not been written about. If I think reading will help me through discouraging times, I would either search my bookshelves (physical and virtual) or buy a book. I would pick something relevant to what's happening in my life or what's concerning to me at present that has me feeling low. I would search the Word of God for answers to my questions. As I read, God faithfully reveals His will, He encourages me and I gain insight or get new ideas to help me move forward. I often say that if someone has taken the time to research and share their or someone else's experiences – you should take full advantage of it and learn from them instead of going through a long and hard process of "reinventing of the wheel". Reading brings encouragement.
Pray, of course
David inquired of the Lord (1 Samuel 30:6 AMP), that is, he asked God what to do. Sometimes you may go through the pity party scenario way too long instead of seeking God for direction and uplifting. God not only speaks to instruct but also comforts to assure you that He will be with you and will help you to prosper in life. Spend more time with the Father when you are discouraged. It will be well worth it.
Remind yourself of God's goodness
Go down memory lane. Think back to the days, weeks, months, years that you have been through some very tough times. What happened? How did God see you through? What did God do for you? You're still here. Yes, maybe facing another challenge but you survived and overcame the other times. Give thanks to God for His goodness on your life (1 Thess. 5:17-18). Since God is a never-changing God that means He will express His goodness toward you again. So look up, you won't lack a thing! You will triumph over this challenge!
Rest in God
Relax. Take it easy. God is always at work (Ps. 46:9-11). Let Him act on your behalf. He is able. Take a break from the norm and refresh yourself physically as well as mentally. Often when you step away from stressful situations or from trying to solve problems, you come back to face the challenge with new energy and new ideas. Sometimes even in your busiest day taking a few minutes to refresh and regain your composure will make a lot of difference to the progress you make in the remainder of your day – you will accomplish a whole lot more.
Express your heart
Tell God your Father – your frustrations, your weaknesses, your insecurities (1 Peter 5:6-7). But don't end there. Seek Him through the Word and remind yourself of His promises. When you release your frustrations to Him and ask Him for the grace to move forward or when you cast that net of discouragement on God don't go back and pick it up. He is able to replace your weakness with His strength. God promises that He will hold you up and give you the victory (Is. 41:10). Remind yourself that Jesus cares and He is diligently watching over you and protecting you. He is able to take care of your cares better than you.
Share your burden
Please, don't wallow in self-pity and don't allow yourself to remain discouraged for long periods. The longer you remain discouraged the harder it is to get out of that state of mind. If you know you can't go it alone, find a trusted friend – one who supports and encourages – and share where you're at with that person. God has a way of working through your good friend to pray with you, give you a word and to help you soar again.
At some point in life, you will face discouragement but I want you to keep moving forward. When all else fails, don't give up. Pick yourself from where you are and keep moving forward in spite of how you feel. You will soon realize that those feelings of discouragement are gone and you are able to progress.
Always, find strength in the Lord Jesus.
What do you do to overcome discouragement?