Welcome to the Living Success FREE Resources page.
This page has been put together with some of the best helps on how to work towards financial empowerment. Enjoy!
Free Chapters from Financial Empowerment: Realign Your Finances to God's Will
Not too sure the book is right for you? Then read a few chapters … by then you'll want to read the whole book.
Learn God's way out of debt.
Needs some money inspiration… read some of the quotes from Financial Empowerment and share them with others too.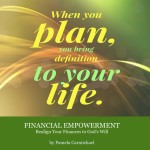 5 Tips to Financial Empowerment God's Way E-course
If you've read the book then this course will be a great start at getting you organized.