From time to time, I am inspired to create resources that I know will be of great help to you. They are created with you in mind.
I hope that as you engage in learning how to be a Living Success God's way you grow in spirit, soul, body, in your finances and in whatever area of life you need to thrive.
Review the summaries below of what is being offered and take action towards living your life the way God intend you to.
To your Living Success & Financial Empowerment
Pamela C
---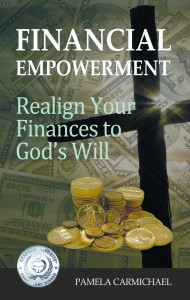 Are you in a constant financial struggle and juggle where there never seems to be enough? Do you wonder if God is able to or even willing to provide for you? Are you constantly paying bills and covering debt payments without seeing much progress? Are you faithful in tithing and giving but yet you cannot see an out-poured blessing?
If you've answered Yes to any of these questions or you need help to improve your finances, then read a copy of this book. Authored by Pamela Carmichael, Financial Empowerment: Realign Your Finances to God's Will provides both sound biblical basis and practical solutions to put your finances in order.
In this award winning title, Pamela explores nine key areas of personal finance – creating wealth, tithing, saving, giving, investing, spending, borrowing, lending and planning. She examines the issues and misconceptions most experience in their finances and provides help with Biblical and practical solutions.
Included in this book is a FREE e-course with Action Steps to help you get started on the road the financial empowerment. Read more…
---


Are you ready to accomplish more of what matters? Let this year be your Living Success Year
Give Yourself a Gift for now and your future – Turn your Dreams into Goals and your Goals into Living Successes!
In Make Your Year A Living Success Goals Workbook, Pamela Carmichael shows you exactly how to create your goals and stay driven by what you want to accomplish this year.
---


Debt Free Living Online Course:8 Steps Towards Financial Empowerment
Find out how to move from debt into financial empowerment in this online course
Stop thinking about getting out of debt and start working towards financial freedom and enjoy living your life to the full!
Learn how to work towards debt freedom, become financially empowered and live more purposefully for Christ. You have what it takes to become debt free! Read more…
---


Resume Writing | Cover Letter Writing | Follow-up & Thank You Letters | Career Success Plan | Career Coaching Services
Are you ready for a career change? Do you need help to land your next job? Do you want to get promoted?
Are you ready to earn want you're worth? Would you like to enjoy your work and not dread it?
But wait, is your resume ready? Or can you do with some help to get you started on your new career adventure?
Living Success Professional Writing Services are here to help you find the work you love. Read more …
---