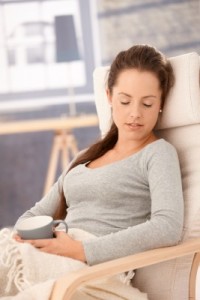 And on the seventh day God ended His work which He had done, and He rested on the seventh day from all His work which He had done. 3 Then God blessed the seventh day and sanctified it, because in it He rested from all His work which God had created and made. — Gen. 2:2-3 (NKJV)
"Rest? Relax? Who has time for that?" Honestly that is what I often say to myself. I recently took a vacation with family but it wasn't much of a rest. I had planned that on that time away from my job I would do other stuff – finish a course and write a few posts along with go on a shopping spree (yes, I'll say more on that in a future post). As much as I knew I needed the rest, my vacation had much activity. Although I enjoyed spending time with my daughter and my sisters, at times during that "vacation" I was concerned that I did not do the things I had planned to do. My vacation wasn't really a rest at all.
On my return, I found it hard to get back into the routine of work, blogging, writing and other projects I had started. I did what I had to do but eliminated a lot from my schedule – especially writing – including posting anything to my blog (sorry about that but it was necessary). During that time I read a lot more, prayed and asked a lot of questions about my future plans and got some much needed rest. Now I am slowly getting back to blogging, writing and developing online course.
Biblically, rest means to repose, to desist from exertion, to cease, to celebrate, to keep (Sabbath), to leave, to put away (down), (make to) rest, to be still. Rest is such a necessary part of our lives. Often times we think that have to keep going but there is a reason God introduced rest (Gen. 2:2-3). If God rested after His work of creation, then it must be important to rest. Knowing that this eternal God rested after His work of creation and blessed the day of rest, then you and me (who are mortal) should follow God and incorporate rest into our lifestyles.
I don't know about you. But I can sometimes get caught up with the things that have to be done and lose track of time and the need to rest. Yet, this great God though He has given me a purpose and all the resources I need to accomplish it, expects me (in the time I have) to rest. God does not want me to be worn out or burnt out but to function at my best while carrying out His purposes.
Recently I read a book about the importance of taking personal retreats which as a timely reminder for me about the need to incorporate rest into my life. There are benefits to be gained when we make resting a necessary part of our lives. When you rest, relax, sleep, you…
Rejuvenates the body. When you sleep at night and you arise in the morning you feel refreshed and energized for the day ahead. A few stretches and up and out and you're ready to go for the day!
Boost your creativity. Whenever I have to write on a particular topic and I find it hard to put my thoughts together, I take a few hours or days away from it and then start again. In other words, I rest my mind from that topic and when I return to it I have a fresh new outlook and I am able to write freely.
Brings clarity. When life gets a bit much and your mind is bombarded with questions and you're wondering what the next steps you should be taking. Consider a rest, a personal retreat and you'd be amazed at how getting away with help to bring clarity and direction to your life.
Have peace of mind. Rest also involves stepping back mentally from the negativity that comes from all directions. It involves letting go of your problems – not worry – and instead giving them to go. This is where you need to be still (body, soul and spirit) and let God do His work on your behalf. This kind of rest can be the most challenging. It involves prayer and feeding the mind with the word of God and good thoughts (Phil. 4:8). It's a rest from the negative mental, emotional and even physical act of worry to a place of peace and faith in God.
Improve your overall health. To name of few, you experience improve memory, maintain a healthy weight, reduce stress levels and keeps the heart healthy.
How can we rest in this productivity driven world?
Have a day of rest.  Take one day of the week to rest from you regular activities. Yes, go to church, spend more time in the Word of God, have quality time with the family, do an activity that you don't normally do, put in a few extra hours of sleep. Recently, I started taking this more seriously and between Saturday 6pm and Sunday 6pm I limit my activity to church, family time, bible study and rest and avoid internet activity, writing or any of the normal activities of the week. The rest is quite refreshing.
Take a daily fifteen minute break and do nothing but relax. Hmmm. Not impossible. Carve out that time in your calendar and eliminate the distractions of cell phones, internet and find a quiet place to rest. I've done it and need to start doing so again. It does boost your energy levels and stimulates the mind.
Have a personal retreat. Sometimes you need to get alone with God and no one else. Choose a place and time and let your family know you're off on a personal sabbatical. Take a book to read, spend time in prayer to connect with God more. Even consider journaling your thoughts and prayers. Retreats are not only times of rest but of refreshing for your body, soul and spirit. You will gain a clearer perspective on your goals and what the Lord wants you to do with more certainty.
Rest mentally. Take a break from the news. Stop worrying about today's issues and tomorrow problems (Matt. 6:34). A good mental break involves meditating on the word of God, speaking and confessing His word concerning you, thinking positively, and being thankful (Phil. 4: 6-7)
Do something different outside of your normal routine. Yes, you can take a Sabbath day or a personal retreat but this kind of rest involves activity outside of work that you love to do. Do you have a hobby? Is there something you've always wanted to do but never had to time? What about going to the beach and basking in the sun (providing you live a place with this kind of climate)? Maybe you could take a road trip with your family. That would be a nice break from the norm, wouldn't it?
The important message here is that rest is necessary. In this hustle bustle world that can be hard to do at times. Everything and everyone seems to be calling out for your attention. But you have to strike a balance between work and rest. There will always be a demand by someone in your sphere of influence for you and your time. If however, you don't take care of yourself and become worn out, you won't be able to help your loved ones and others.
Consider today how you can incorporate rest into your routine.
What do you do to relax and enjoy resting without worrying out the to-do list?