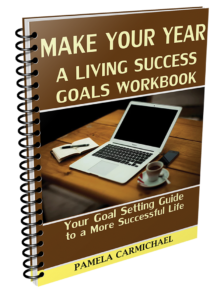 So above all, guard the affections of your heart, for they affect all that you are. Pay attention to the welfare of your innermost being, for from there flows the wellspring of life. – Proverbs 4:23 (The Passion Translation)
This is a very exciting time of the year for me! I love the newness that the season of Christmas and the celebration of the Old Year into the New Year brings.
It is also a time of reflection, thanksgiving and planning. Actually, since October, I have started seriously thinking and praying about what I would like to accomplish and experience in 2018 and beyond. With the new season approaching, I also began reviewing my goal setting workbook and decided finally to publish it and post Amazon to share with you.
For years, I have been setting goals and accomplishing most of them (once I set the goals and work at them J). Of course, there have been setbacks and setups or highs and lows to working towards the goals but for the most part the journey has been good. I have seen some of my goals accomplished but I have even removed some of them from my list too. Then there are some aspirations that no matter how long they seem to be taking, I can't shake them off and someday I will see them become living successes in my life!
However, I have noticed that along the way, with my goals process in hand (in various ways since I didn't always have it so neatly put together), there has been a constant to working through my goals that I haven't mention before. I love to journal. I have several books in all shapes, sizes, styles and colors that hold my thoughts, dreams (night visions), feelings, prayers, etc. throughout the years of my life. Occasionally I would take a page or two from one of my journals and read them. I am often amazed at way God spoke to me through those pages that I wrote or as I look back I see how much God has done in my life. Reflecting through my journals leaves me with a heart of gratitude and praise to my God for His faithfulness.
One thing I did this year in the Make Your Year a Living Success Goals Workbook was to add a section on journaling. I thought it necessary to include this as important element to the goal-setting and goal-getting process because of the benefits that you can gain from journaling. Whether you set goals or not, journaling has a way of adding great value to your life. Journaling ….
Helps you to express your inner thoughts through writing.
Frees you to share who you are with yourself and with God. Thus you get to know yourself better.
Gives clarity to your life's journey. You gain a better perspective of your circumstances and are able to solve problems easier.
Reflects on the past and present and prepares you to look ahead to the future with enthusiasm and hope.
Clears your mind of the clutter – mental, emotional and spiritual clutter – and positions you to a place of gratitude.
Teaches you that your life isn't so bad after all and that you are doing some things right.
Refreshes and renews your inner you – giving you the opportunity to turn over a new leaf in life.
Is considered to be beneficial to your overall health but strengthening certain immune cells and reducing stress.
Boost your intelligence and creativity. Personally, I find that journaling helps me to focus more on God, new ideas come easily and my writing improves.
Helps you set the course of your life. It allows you to guard your heart – your thoughts, your will, your discernment, and your affections. As you journal, you see firsthand where you need to improve but also what is working for you. Journaling helps you to keep and/or bring your life into divine order – into alignment to God's will.
I would encourage you to consider journaling especially when you're feeling a bit weighted down with life's happenings. Yes, I know that this could be one more thing added to your to-do list but don't look at it as another burden. Rather view it from the perspective of being life building and life strengthening. Consider it as part of your "Me time" to refresh you so that you can be all you need to be and grow to be a better you as your life progresses.
How to journal? Hmmm… freely! Write from the heart. Get a book that you designate as your journal and keep in private! Knowing that it's yours and not available for other eyes to see makes it easier to write the deep thoughts concerning your life.
Journal on a regular basis – daily or weekly – or as you see the need to. I don't journal every day so when I do I write a lot! A set time and place where you can write without interruption is very preferable, so give careful thought to this. Early in the morning or last thing at night are usually the best times for journal. Anyways, you choose what is best for you based on your lifestyle.
In all this, commit your journaling to the Lord and enjoy the time alone with you!
Do you journal? What takeaway have you received from this post? I'd love to hear from you. Share your thoughts. Write a comment below.
Commit your works to the Lord, and your thoughts will be established. – Proverbs 16:3 (NKJV)
Make Your Year A Living Success Year Goals Workbook is available in the following formats: